We are a full service veterinary clinic. We welcome you to come check us out, or call us at 785-258-2755

Dr. Brian Davis is our staff veterinarian. Dr. Brian grew up in Andale. He attended Kansas State University for his veterinary degree, then returned to Andale and served as the in-house veterinarian for the past five years. Dr. Brian has experience with cattle, horses, dogs, cats, and other species - just ask what different animals he has worked on. Dr. Brian is thoughtful, knowledgeable and thorough.
Dr. Jessica Laurin is the owner of Tri-County Veterinary Center and the Animal Heatlh Center in Marion. Dr. Laurin grew up on a farm near Tampa, and now lives at the Marion County Lake. Dr. Laurin sees animals of all different sizes and types as well. Her professional interests including feeder cattle health and training, although she really enjoys the variety offered in the veterinary world.
Dr. Rebecca Erwin practices primarily at the Animal Health Center in Marion. She is certified for Chiropractic care, and so we refer those services to her at the Marion facility.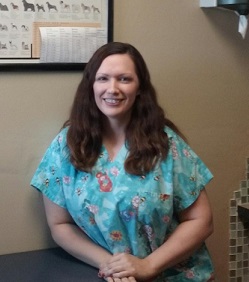 Amy Hight, RVT is our Registered Veterinary Technician. Amy assists for our small animal cases, and manages our BVD lab. She is very compassonate and willing to assist. Kirby, her red long haired dachshund, likes to come visit.

Valarie Greenemeyer is our receptionist.
Valarie is an owner of boston terriers.

Hollie Cole is another excellent staffer for our clinic.
She helps process cattle, and works in about every area of the clinic.
Her house right now is full of kids!